---
Satoshi Nakamoto - light box
auctioned on Scarce.City

---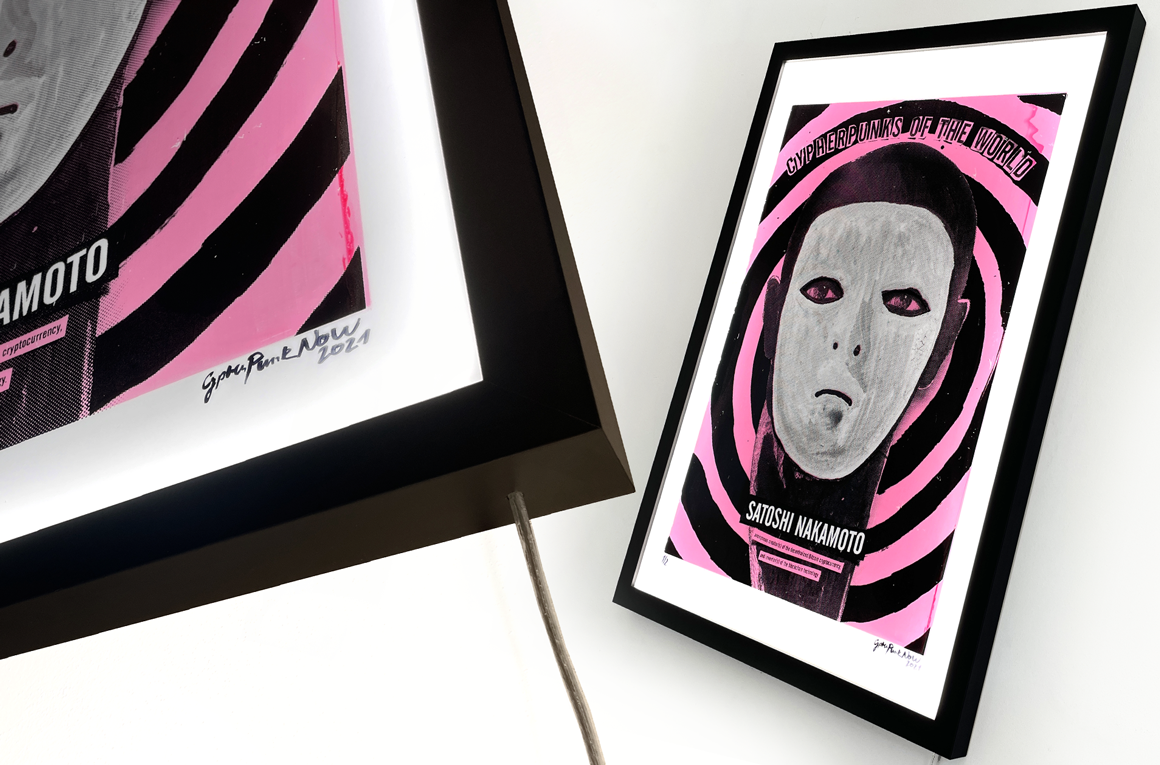 from the series
Cypherpunks of the world

The first of only two screen prints on milk fiberglass,
framed in a solid wooden frame, under anti-reflective glass,
backlit with LED lighting.

Connected to Augmented Reality with ArtiviveApp.

Format 79x108x5 in cm / 31.1x42.5x1.8 in inches.
Weight 14 kg / 30 lbs.
---
During the screen printing of 21 copies of Satoshi Nakamoto on paper, I also printed two milk fiberglass plates. The first one is now framed and ready for auction.
CYPHERPUNKS OF THE WORLD SERIES
A TRIBUTE TO THE PEOPLE WHO DEFINED CYPHERPUNK,
DESCRIBED THE IDEA AND WROTE THE CODE.
WE ARE ALL HERE, THANKS TO THEM.
Thirty years after, eleven creators of idea and code are putting on masks again, as in Wired magazine, May 1993.
However, this time the masks take the form of raw painted profiles of the eleven individual faces.
Satoshi Nakamoto, the king, who left only his imprint in the code, with his eyes open. On both sides, the creators and ideological founders of cypherpunk, dreaming of digital freedom with their eyes closed.
The title of the series is based on an introduction in which Timothy C. May presents the readers of the Mailing list with the text of The Crypto anarchist manifesto.
11 original collages in screen printing edition, 21 copies from each cypherpunk, 3 colours print, acrylic, every print has its augmented reality modification, download ArtiviveApp.
See a complete Cypherpunks of the world series.


---
---