Printing Bitcoin Since 2014
---
Pre-hyperbitcoinization era collages, digital pixels and vintage engravings.
Screen printing, colour by colour, acrylic on paper in large format and small series.
Each print is individually numbered, signed, and permanently certified on the BTC blockchain.
•
Co-founder @Paralelní Polis 2014
Graphic designer @Citadel21 magazine, physical edition Volume 1-10 / 2021
Member @Ztohoven 2004
•
Scroll down to see the bitcoin artwork I've created since 2014.
Find out all the details about the creative and technical process on ARTWORK page.
Watch a VIDEO documentation of the printing process.
Click on the ART SHOP to choose from new and available prints.
Explore unique pieces in the RARE PRINTS section.
Find an ORIGINAL ARTWORK framed.
Wear T-SHIRT?
I wrote my Genesis piece to the blockchain in the fall of 2019.
Even bitcoin celebrating, I firmly believe in the NFT experiment although many of my NFTs are backed by physical printing
•
Art Shows
Hackers Congress Paralelni Polis 2017-22 Prague
Baltic Honeybadger 2019 Riga
The Lightning Conference 2019 Berlin
LA Crypto Art Show 2019 Los Angeles
Cryptoart Revolution 2021 Paris
#Trashart : NFT Garbology 2022 Paris
BTC22 Miami
Baltic Honeybadger 2022 Riga
BTC22 Amsterdam
NFTFactory Drop 2022 Paris
BTC23 Miami
•
Metaverse
The Garage - where all the great projects were started,
the gallery at Cryptovoxels I built on land borrowed from my friend Max Osiris, for which I am forever grateful.
•
CYPHERPUNK NOW GALLERY 2014 - 2023
Artwork & Screen Print
↓
2023

---
↓
2021


---
↓
2020
---
↓
2019

---
↓
2018
---
↓
2017

---
↓
2015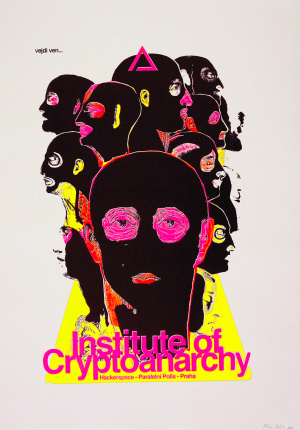 This is where I entered the rabbit hole...
Still without a silkscreen and no idea how much cypherpunk would affect my life..
In 2014 I created the graphic identity of the project Paralení Polis, which I co-founded together with the art group Ztohoven. PP is a three-storey building in the centre of Prague, a cafe, a hub, a hackerspace.
From the foundation until today with economy only in BTC.
I created the HCPP 2014 motif with exactly the same meaning as the "enter the rabbit hole" meme, only this meme didn't exist at that time, so instead of Alice is a pig and the rabbit hole is the burning Parallel Polis logo + slogan "Vejdi ven" is some like "Enter outside"...