CREATING BITCOIN ART SINCE 2014,
Transforming the memes and the historical milestones of the age before hyperbitcoinization in to the visuals, collages, ink drawings and than silk-screen printing in large format and limited series.

SILK SCREEN PRINTING SINCE 2015
Printing my artworks on a manual screen printing machine.
Watch my "proof of work" videos.
Each print is created, printed, numbered and signed by me and it's provided with digital certificate of authenticity, stored on the bitcoin blockchain via Verisart.

NFTs SINCE 2019
My genesis NFT from 2019 is forever on SuperRare.
Minting complete NFT copy of my silk-screen prints at KnownOrigin.
Some of my rare prints are available only with NFT at Rarible.
Experimenting wit Bitcoin NFTs at Raretoshi.
---
A graphic designer for two decades but entered the bitcoin rabbit hole and suddenly everything change. After a few years of buying coffee for BTC and creating the visual image of the Paralelní Polis project I co-founded with the Ztohoven collective in 2014. I found myself at the core of bitcoin maximalists in 2020 collaborating with Hodlonaut and Katoshi on graphic design of printed Citadel21 zine and getting inspiration, Stacy and Max then showed a BTC White Paper print in their podcast at the end of the year, causing all the prints from my online store to sell. In 2021 I was able to concentrate solely on the art and you can see the results in gallery below, in the "Cypherpunks of the world" series of 11 motifs I learned how to print the rasters and in the HODL series I understood how to print the colour gradients correctly. Now I control my screen printing machine like a musician controls their instrument...
Interviews at Bitcoinmagazine.com / Newdaycrypto.com / 21ism.com /
You could see my art at HCPP 2017-21 Prague / Baltic Honeybadger 2019 Riga / The Lightning Conference 2019 Berlin / LA Crypto Art Show 2019 Los Angeles / Cryptoart Revolution 2021 Paris / #Trashart : NFT Garbology 2022 Paris / Bitcoin 2022 Miami
---


gallery 2014 - 2021
↓
↓
↓
2021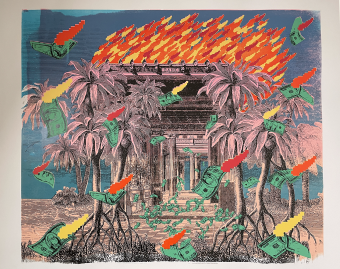 Cypherpunks Of The World / Screen printing series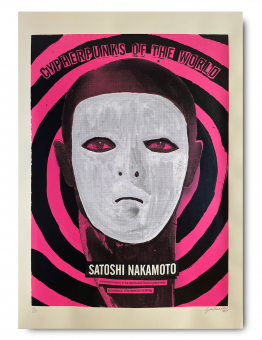 Cypherpunks Of The World / Original collages
---
↓
2020
---
↓
2019
---
↓
2018
---

↓
2017

---

↓
2015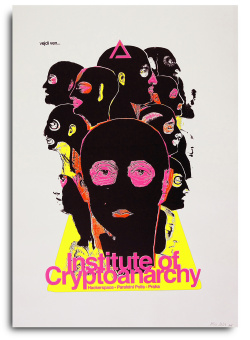 ---

↓
2014
This is where I entered the rabbit hole...
Still without a silkscreen and no idea how much cypherpunk would affect my life..
In 2014 I created the graphic identity of the project Paralení Polis, which I co-founded together with the art group Ztohoven. PP is a three-storey building in the centre of Prague, a cafe, a hub, a hackerspace.
From the foundation until today with economy only in BTC.
I created the HCPP 2014 motif with exactly the same meaning as the "enter the rabbit hole" meme, only this meme didn't exist at that time, so instead of Alice is a pig and the rabbit hole is the burning Parallel Polis logo + slogan "Vejdi ven" is some like "Enter outside"...