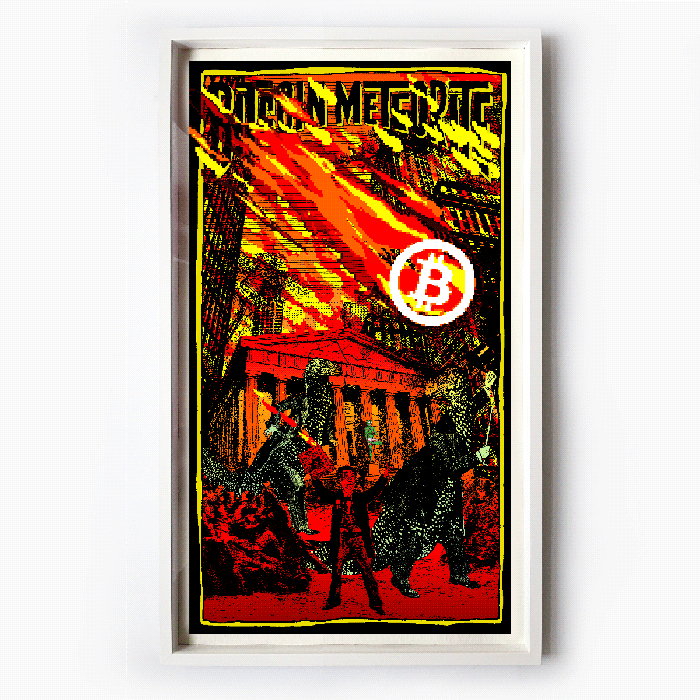 a series of prints developing the Bitcoin White Paper theme.
The heat of the approaching Bitcoin Meteorite hit Wall Street,
the sky turned red with the glow of Proof Of Work computing power.
Anonymous creator Not Satoshi But Nakamoto holds The Times dated January 3, 2009,
confirming the meteorite appeared on the horizon and marked the beginning of The End Of Fiat.
Meanwhile, riots are spreading, inflation is rising, the Treasury building is empty,
and Banksters On The Run are stomping down the street.
And above all the chaos, Pepe The Hodler, emotionless whether FOMO or FUD
but full of faith in Bitcoin will fix it... just like you.
---
6 motifs, printed in the following numbers:
Bitcoin Meteorite - 0 copies
Proof Of Work - 21 copies
Not Satoshi But Nakamoto - 21 copies
The End Of Fiat - 21 copies
Banksters On The Run - 21 copies
Pepe The Hodler - 21 copies
3 Artist Proof copies of each motif will be printed, making a complete series of six motifs.
Buy now / Delivering before Christmas
Printmaking:
Silk-Screen Print
Print: 8 colours / acrylic
Format: 39,37x23.22 inches / 100x59 cm
Paper: Rainbow Creme 230 g/m2
Edition size: 21 prints
Artist proofs: ?
Signed and numbered
Certificate of authenticity via Verisart.com
---
The whole series in animated GIFs will be released soon as Bitcoin NFT, subscribe to my newsletter to not missing it...
---