---
BITCOIN WHITE PAPER 2020 ARTIST PROOF #1
AUCTIONED AT Scarce City

---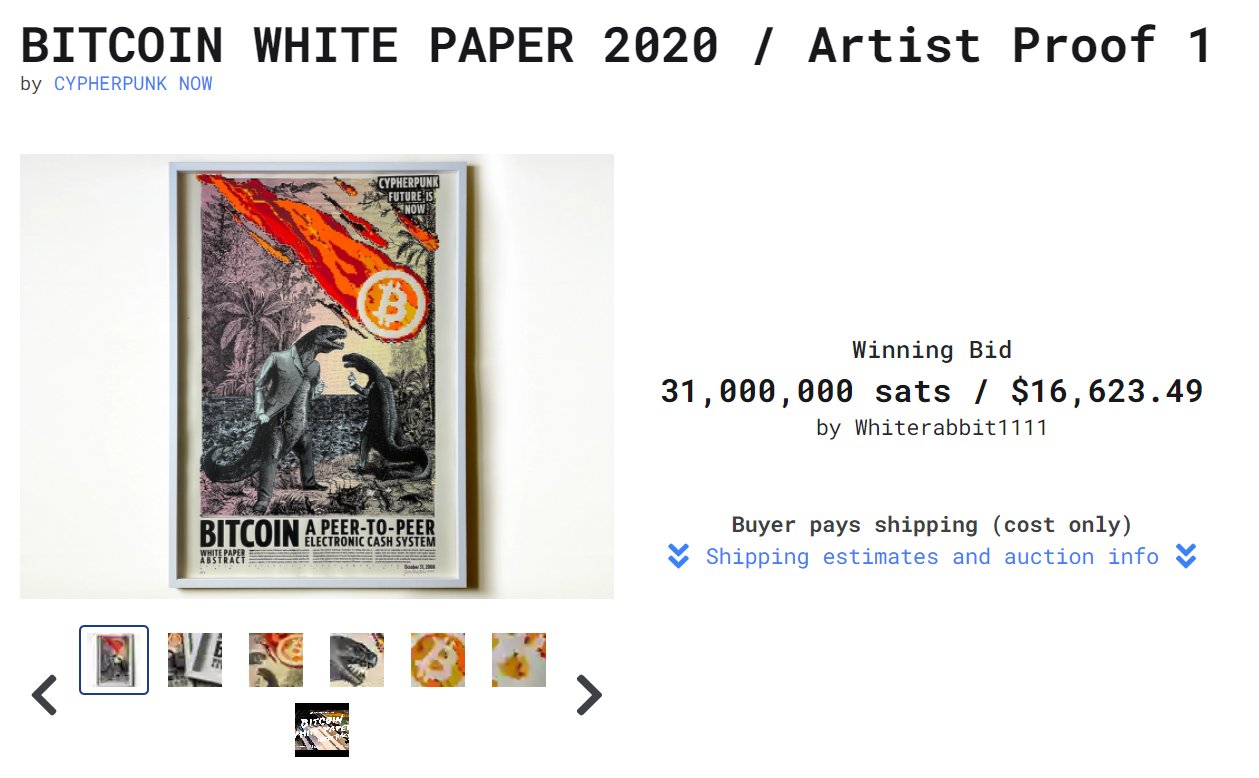 ---
The dinosaur bankers still have control over the cash flows but they are already counting the last seconds before the #Bitcoin meteorite strikes.
The print covers the entire Bitcoin White Paper Abstract and the motif follows the first edition I created in 2019, both editions are sold out.
When silk-screen printing 42 copies of the motif, two AP prints were created.
I first printed the background gradient in solid colours, but I was afraid of inaccuracies so I mixed the gradient again in transparent colours and so I printed the rest of the edition. Over time, I would say that these two AP prints have better colour than the rest of the series, the colour gradient is richer and better mixed, but at the time of printing I was afraid that the non-transparent colour would cover the already printed part of the motif.

Artwork story in five tweets:
Printing process video:
Bitcoin White Paper 2019:
https://www.cypherpunknow.com/bitcoin-white-paper/
Bitcoin White Paper 2020:
https://www.cypherpunknow.com/bitcoin-white-paper-2020-3/
Printmaking: Silk-Screen Print
Print: 10 colours / acrylic
Format: 39x27 inches / 100x70cm
Paper: 230g Rainbow Creme
Artis Proof 1/2 (AP 2/2 is on my wall and never will be for sale)
Print is framed
Worldwide shipping with UPS (free)
---
What is Artist Proof print?
(text stolen from internet):
The Limited-Edition print market came about when technological advancements allowed painters to expand their market reach by creating affordable prints relative to the original works. The first "proofs" were either pulled or printed, and the artist had the option to work out the color and quality issues as they came out of the process. Several corrections would be made by the artists, and those "artist proofs", or APs, would be set aside and not included in the number of the limited- edition print run. Although, these prints were still of high quality. Artists found that there was a high demand for artist proof because clients would specifically request the limited-edition prints that they would obtain directly from the artist.
---